ADING is a company for production and sale of construction chemicals with its headquarters in Skopje, the Republic of North Macedonia, established on May 30, 1969. We have been constantly present and active on the market of South-eastern Europe, but we reach even further, in the rest of Europe, Middle East, Asia and Africa. We have our own production capacities in the Republic of Bulgaria (ADING Bulgaria), a representative company in the Republic of Serbia (ADING Belgrade), and that is how we reach as far as the Republic of Kazakhstan.
On the market we are recognized as "construction pharmacists". We create solutions and technologies that can solve the most specific construction problems. The products we offer are just one ingredient, a small part of the total added value we create. Furthermore, experience and knowledge transfer among generations of professionals are the fundaments of our company.
The power and the future of the company is in its employees, and we constantly encourage and promote independence and integrity. We nourish a system of dedicated and responsible decentralised teams of experts, who collaborate effectively with each other to achieving the goals. We are growing employees aware about the future, employees accountable for social responsibility and dedicated to wide innovation process in the company.
We are purpose-driven company. Profitability, but also sustainability and own contribution in building our better future. The company is responsible toward the future and led by the idea that the climate changes are not some abstract expressions from the time to come; they are happening here and now. Therefore, our first goal is continuous investments in creating solutions for sustainable future, decreasing carbon footprint in cement and construction industry.
Concrete admixtures and cement industry admixtures are inseparable support in the production processes of concrete and cement manufacturers. They directly affect the productivity, electricity consumption, and the amount of CO2 emission. This means, sustainable development for ourselves, supporting sustainability of our partners, decreasing our impact on the environment.
In addition to the admixtures, an important part of our portfolio is dedicated to repairing, reconstructing and protecting reinforced concrete constructions. Reinforced concrete has been the most useful material for over 100 years now, and we see it all around us. We extend the existing reinforce concrete objects, life cycle, and protect the new ones, make them resistant to intensive chemical and physical aggressions, which are result of the exploitations conditions that get harsher.
Our wide product portfolio contains over 100 standards products, plus finishing products in all construction areas. Additionally, our "tailor-made" approach includes 50 other products made specially and according to the objects and customers specific needs.
Our second goal is to neutralize any direct negative consequences from our working towards the environment by 2030, using the resources efficiently, and contribution in the fight with climate changes. This means, production based on 100% our own resources of electricity and full energy efficiency; optimization of the production costs, resources, and raw materials; and products based on eco-friendly components.
Today, there are 150 people working for ADING Group. About 90 of them are employed by the parent company. The personal dominantly consists of engineers, distributed in different departments, such as Quality Control, Research & Development, Technical Support & Sales, etc.
ADING nourishes socially responsible working, transparency, and openness, and its financial reports are regularly available to the public. The company is established as a joint-stock company, and its shares are traded on the official market of the Macedonian Stock Exchange. The company also owns companies in its full and partial ownership as it follows: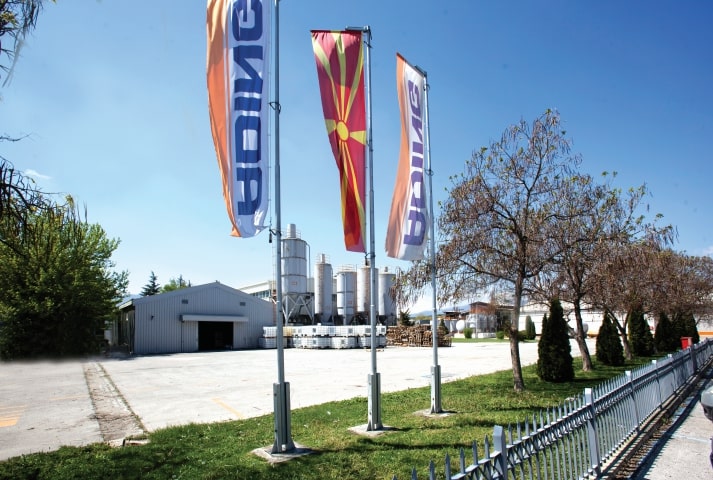 NORTH MACEDONIA:
• BIZNIS CENTAR ADING Skopje,
• INVEST A Skopje,
• BIRO PROEKT Skopje,
• LA - Hemija Skopje,
ABROAD:
• ADING Belgrad, Srbija,
• ADING Bugarija,
"Ingredient of every structure", this is the long-standing company's marketing moto.
Company Mission: "We design tailored chemical additives for construction and cement industry, which create added value."
Company Vision: "To deliver solutions and technologies contributing to sustainability of our partners, society and environment."
COMPANY CORE VALUES
CUSTOMER FOCUSED - We put the customer first. We build long-term relations and share our values with the customers.
DIGNITY – We treat others with respect, and we ask for respect. Employees are our biggest investment. We foster a culture of transparency, we speak openly, we are equal and we recognize commitment and engagement.
INTEGRITY - We lead and act honestly, by example and integrity. We incorporate our values in everyday life and we are a role model for the others.
KNOWLEDGE - We build and transfer knowledge. Experiences and knowledge are the basis for growth both personal and professional. We share and encourage knowledge, search for new solutions and technologies.
INNOVATION - Comprehensive and continuous products and processes improvement. We build and maintain our home together. Any help from every individual in the company is welcome.
SUSTAINABILITY – Profitability, but also constant dedication to the mission for sustainable future. We are focused on our own growth, but we understand it as a fundament for creating healthy future and healthy environment for the generations to come.