ADING is a leading company in South East Europe in production and sale of construction chemicals, established on 30.05.1969. The company has been incorporated as a joint-stock company with nominal capital of 3,857,636 €. The nominal capital consists of a total of 386,400 ordinary shares with a nominal value of 9.983 € per share. ADING's shares are traded on the official market of public companies of the Macedonian Stock Exchange of listed securities. The first trade with shares of ADING AD - Skopje, was registered on 27.12.1997.
The head office of the parent company and its largest production capacity are based in Skopje, Republic of North Macedonia, having representative offices and distributors in over 13 markets in the region of South East Europe, Near East and Asia. The company has its own production capacities in the Republic of Bulgaria, and representative companies in the Republic of Serbia, Republic of Kazakhstan and the Republic of Greece.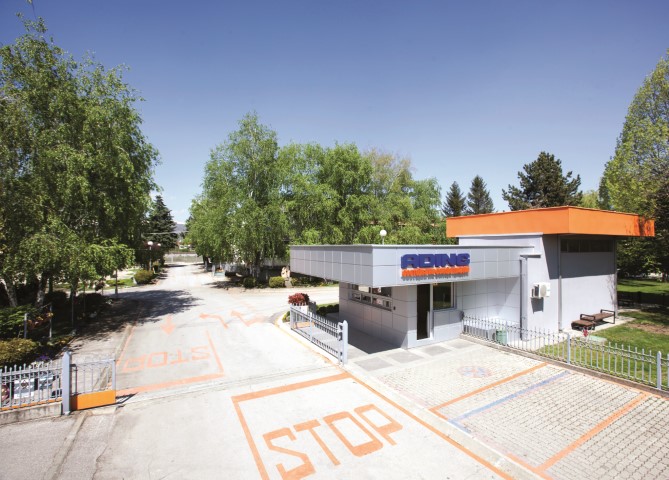 The product range includes over 100 products, offering solutions even to the most specific problems of the modern construction industry. Today, nearly 60% of Company's products are sold on external markets, hence the large number of reference buildings in these markets where ADING's products and technologies have been used and implemented.

The Company is among the first ISO 9001:2000 certified companies in the Republic of Macedonia, and the company's management has undertaken professional responsibility for continuous improvements of the quality of products and services, customer and employee care. By having obtained ISO 14001:2004 certification, ADING has proved its care and active policies for the environmental protection. On 13.01.2014 ADING obtained an A – license for integration with an operational plan, issued by the Ministry of Environment and Physical Planning of the Republic of Macedonia. It is precisely these qualities that were recognized on many occasions by the community in which we conduct our activities, thus confirming our position of a socially responsible company.

ADING Group today has over 150 employees, 90 of which are employed by the parent company and the others by the Group member companies in the Republic of Macedonia and worldwide. ADING is an engineering company with over 40% of its staff being civil engineers, architects, chemical engineers, engineering technologists and other highly qualified profiles distributed throughout the following departments: Production, Technical application and Placement, Research & Development, Quality Control, etc.

It is with continuous investments in our employees and in their knowledge that we have grown into a company recognized by the clients not only by the product quality and high-performance, but also by the technologies and the know-how of our engineering staff. These are ADING's main competitive advantages and qualities. ADING engineers are always prepared to offer a technical solution, technology and a product in any place and at any time within 48 hours.

ADING's vision has always been to be one step ahead of the others and excel the expectations, bringing down the stereotypes and usual practices in doing so. In fact, our motto and goal to be "an ingredient of every structure" shows the direction towards which we are striving, it shows our builder's spirit and the need for new challenges.

The company owns firms with total or partial ownership in: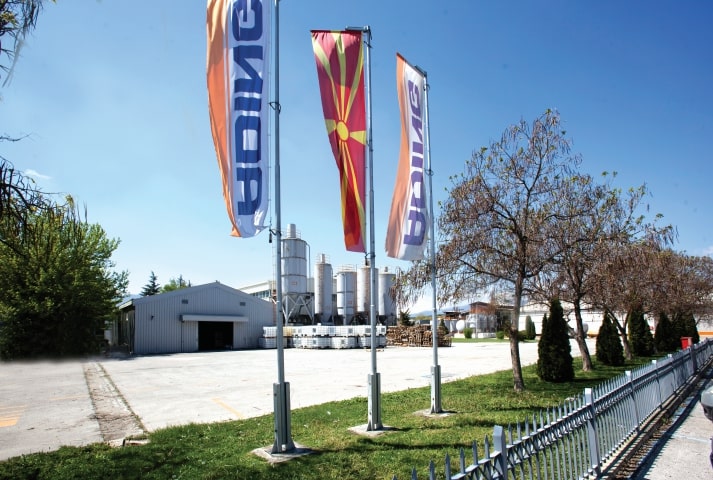 NORTH MACEDONIA:
• BIZNIS CENTAR ADING Skopje,
• INVEST A Skopje,
• BIRO PROEKT Skopje,
• LA - Hemija Skopje,
ABROAD:
• ADING Belgrad, Srbija,
• ADING Bugarija,
• ADING Almaty, Kazakhstan,
• ADING Helas, Thessaloniki, Greece,


• The company is completely designed and equipped for high grade carrying out of activity with possibility of increasing of current volume of production and sale.
• Marketing company's mottos is to provide in time every client in Macedonia, South East Europe, Russia, Middle East and Central Asia with high grade chemical products needed for construction, superior technical and professional assistance with greater safety and competition of similar company in this part of world.